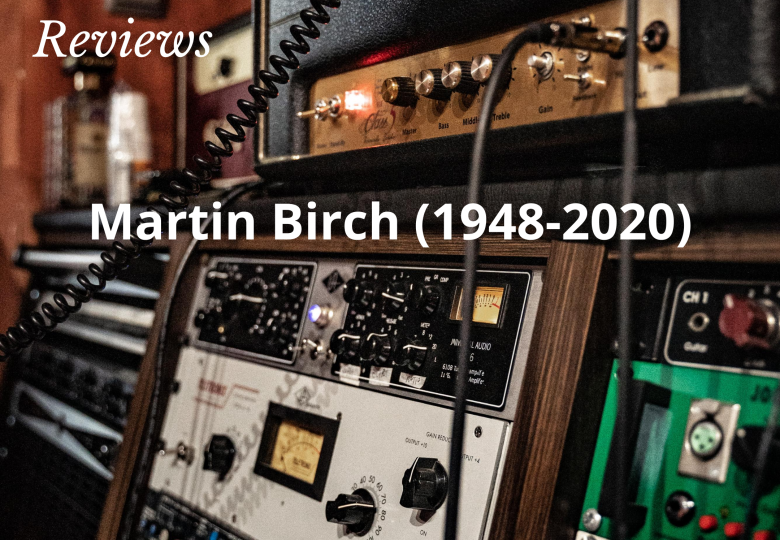 MARTIN BIRCH (1948-2020)
This morning I was met with the news that producer, mixer and engineer Martin Birch had died yesterday. In recent years, Birch became one of my favourite producers in the world of music. I would rank him alongside producers such as Qunicy Jones, George Martin and Brian Wilson.
Career highlights
Birch mainly worked with a lot of big names in the world of Hard Rock and Metal during the 70's and 80's such as Deep Purple, Rainbow, Iron Maiden, Black Sabbath, Wishbone Ash, Whitesnake and Blue Öyster Cult. He also worked with other notable artists and bands such as Fleetwood Mac, Peter Green and Jeff Beck.
For Deep Purple he engineered Deep Purple in Rock (1970), Fireball (1971), Machine Head (1972), Made in Japan (1972) and Who Do We Think We Are(1973). He engineered and mixed Burn (1974) and was also brought onboard as co-producer for Stormbringer (1974) and Come Taste the Band (1975).
For Rainbow (the group that ex- Deep Purple guitarist Ritchie Blackmore founded after Stormbringer) he co-produced, mixed and engineered their debut album Ritchie Blackmore's Rainbow (1975). Their second and third albums Rising (1976) and Long Live Rock 'n' Roll (1978) he produced, mixed and engineered himself. The production on Rising is phenomenal for an album in the 1970's, especially in the genre of Hard Rock and Metal.
Birch engineered and produced Black Sabbath's first post- Ozzy Osbourne album Heaven and Hell (1980). Ronnie James Dio (who had sung on the first three Rainbow albums) was brought in as Ozzy's replacement which resulted in a very different sound and approach from the band. Heaven and Hell proved to be a career revival for Sabbath as well as one of their greatest achievments. Birch also produced and engineered the worthy follow-up album Mob Rules (1981).
Martin Birch is probably best known for his long relationship with Iron Maiden. He produced and engineered Killers (1981), Number of the Beast(1982), Piece of Mind (1983), Powerslave (1984), Live After Death (1985), Somewhere in Time (1986), Seventh Son of a Seventh Son (1988), Maiden England (1989), No Prayer for the Dying (1990) and Fear of the Dark(1992). He also did the mixing on all of their studio- and live releases starting from Piece of Mind.
Birch retired from the industry in 1992 after finishing Fear of the Dark. Given the amount of quality albums he had worked on, I think his early retirement could be justified.
Personal thoughts
I knew that Martin Birch had produced the first three Rainbow albums as well as Heaven and Hell and Mob Rules ever since I first heard those albums. I didn't start listening to Iron Maiden until maybe 1 year later and I remember thinking that the production on Number of the Beast for instance was reminiscent of those previously mentioned albums. When I read that Birch had produced all of those 80's Maiden albums bar the debut, I was not at all surprised.
His production on the Iron Maiden, Black Sabbath and Rainbow albums are some of my favourites. No matter how many instruments are playing simultaneously, everything is perfectly audible and balanced. "The Clairvoyant" from Seventh Son of a Seventh Son is a fast paced song with drums, bass, two guitars, vocals and keyboards, yet everything is perfectly balanced in the mix. "Can I Play With Madness" from the same album also features the same instrumentation as "The Clairvoyant", but with added multi-layered vocal harmonies in the chorus. Despite all the different instruments and vocals playing at the same time, you can still easily identify each part, and that to me is one of the strengths of Martin Birch's production and mixing. If there's one thing I don't like in music production, it's when the production is muddy or messy and you can't tell what's going on.
All of the instruments also sound incredibly good in his productions. Take for instance the intro to Black Sabbath's "Children of the Sea", the acoustic guitar and clean electric guitar sound amazing. If I were to speculate a little, I think that Mikael Åkerfeldt from Opeth got his clean electric guitar sounds from the intro to "Children of the Sea".
In my review for Somewhere in Time I mentioned how much I love the sound of the guitars on that album. I also singled out specific moments on that album that sound fantastic, such as the bridge in "Sea of Madness", the bridge in "Heaven Can Wait" and the verses in "Stranger in a Strange Land".
Birch's production and mixing will always be a benchmark with which I compare other production work with. In my opinion, he was one of the best.
Rest in peace Martin, your work will never be forgotten.